Summary
(via Goodreads):
When it comes to relationships, Remy doesn't mess around. After all, she's learned all there is to know from her mother, who's currently working on husband number five. But there's something about Dexter that seems to defy all of Remy's rules. He certainly doesn't seem like Mr. Right. For some reason, however, Remy just can't seem to shake him. Could it be that Remy's starting to understand what those love songs are all about?
I think there are quite a few of you out there that would agree with me when I say that this is my favorite Sarah Dessen book. I loved it most of all because of Dexter, oh so book-dreamy Dexter. I know it's a rather old one but it's still a good one so (with the help of my roommate Mal G!) I'm dedicating this week's Casting Call to
This Lullaby by Sarah Dessen
Remy Starr: Remy is the protagonist of This Lullaby and is cool, calm, and cynical. She is emotionally scarred by her past, as her father - whom she never knew - wrote her the song "This Lullaby" the day she was born, and then left soon after. The song becomes a one-hit wonder, and Remy constantly hears it in her life. She claims to know when a relationship is about to end. She used to be known for sleeping around and partying. Described as "blond and thin".
Cast
:
Taylor Momsen
--Before you take your shoes off and throw them, hear me out! Mal and I agree...she gives the impression of partying and sleeping around but still can give you the vulnerability needed when she finally falls for Dexter. She also comes off older than she is, which is a quality I think Remy needs since she often ends up taking care of her mother. I've already been imagining her transformation from grungy party girl to normal, fresh-scrubbed teen. I will admit that her interviews make her sound a bit annoying but I think she'd do this part justice. After all, I don't need to hear her thoughts, I just want her talent.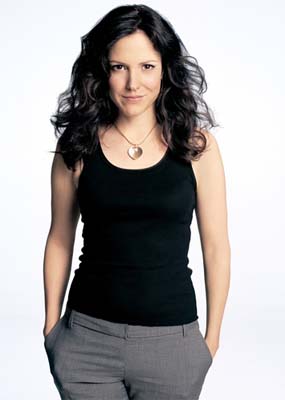 Barbara Starr: Barbara is Remy's mother, who also happens to be a famous author. Her books are the romantic type, all about exotic locations and women who have everything yet nothing. She has been married numerous times, each time changing her outward personality to match her newest husband, yet still believes in love despite her failed relationships, in direct contrast to Remy's view on love. She is described as "dark and slightly more voluptuous".
Cast: Mary Louise Parker--Mary Louise would be a perfect Barbara as she has that quirky, slightly flighty vibe that Remy's mother needs. She clearly can play the type of woman whose head is all over the place...I mean, have you seen Weeds? Also, as a veteran of both stage and screen, she will give Barbara the chameleon-like quality she requires.
Christopher Starr
:
Chris is Remy's brother. He used to be a juvenile delinquent, before he met his girlfriend, Jennifer Anne, whom he met at his job at Jiffy Lube. Since then, he's shaped up considerably. He breeds lizards in his room. He is named after his mother's favorite saint and he is very close to Remy because of their shared childhood. He's 21.
Cast: Cam Gigandet--Um, one of his major roles was a delinquent on The O.C. He's known for playing the bad boy. It would be a nice change to see him as the reformed bad boy.
Jennifer Anne Baker
:
Jennifer Anne is Chris's girlfriend, who is described as being small with big blond hair. She is seen as an uptight, annoying perfectionist in Remy's eyes, and is the only one who refers to Chris as "Christopher". Later in the book, she and Chris become engaged. Remy often cannot tolerate Jennifer Anne; however, she means well. Jennifer Anne reads many self-help books and greatly dislikes Chris's obsession with his lizards. She is described as "smart as a whip" and "small with big, blond hair".
Cast:
Leven Rambin
--
Rambin is almost picture perfect. She played smart as Lily on
All My Children
and her character is a total go-getter on
Scoundrels
. She'd be a great Jennifer.
Don Davis
:
Don is Barbara's fifth husband. They met at the car dealership when Barb and Remy went to buy a new car. A lifelong bachelor, he has habits that annoy both Chris and Remy: his paintings and statues, which often seem to have sexual or violent themes, and his pyramids of Ensure cans. After his marriage with Barbara, he is caught having an affair with his secretary, Patty. He is described as "portly", "doughy" and "balding".
Cast:
Jason Alexander
--He fits the physical description perfectly! Also, he could totally play a car salesman (hello, George Costanza! That guy had car salesman written all over him.) and before, like I did, you dispute that he could be a cheating sleazeball think of him in
Pretty Woman
. (Mal had to remind me of that.) Not good at ALL.
Jess
:
Jess is Remy's oldest friend. She is generally very emotionless. Remy describes her as "big," but not fat. She is the "mother" of their group of friends because she's been raising her two younger brothers since her mom died in fifth grade. She disagrees and fights with Chloe often. She is also the most responsible of the group; she doesn't drink or smoke, always drives. Jess avoids dating problems by not dating at all for the most part.
Cast:
Nora Kirpatrick
--
We were first introduced to Kirpatrick in ABC Family's
Greek
where she played Katherine, a no-nonsense sorority member. While she is NOT BIG BY ANY MEANS (ugh, Hollywood) she did dwarf the super tiny girls on this show. We think the character she played on Greek could help her bring those similar traits to Jess.
Lissa
:
Lissa is Remy's friend, the "emotion" of the bunch. Unlike Chloe and Remy, she believes in true love. She plans to attend the local university to be together with her boyfriend, Adam, whom she gave her virginity to. However, when Adam abruptly breaks up with her, she is miserable. She has an "infamous" sweet tooth - Remy considers her the only person she knows who can thoroughly explain the difference between chocolate-covered raisins and Raisinettes. She also thinks that all of Remy's boyfriends and exes are nice and are keepers. Not that Remy cares, because, as she tells Lissa, "You like everybody."
Cast:
Lucy Hale
--I'm not going to lie. The only show we can remember her being sweet in is
Privileged
. It works for me.
Chloe
:
Chloe is one of Remy's friends. She shares Remy's skeptical views on love. Her mother is an airline stewardess, and often brings home small miini-bottles of liquor that the girls steal and drink. Her mom is also a compulsive shopper, so Chloe is often seen in new clothes and is referred to as "our little trendsetter ". Chloe doesn't understand Remy's attraction to Dexter, and is often insensitive. Jess and Chloe often argue over mundane things.
Cast:
Naya Rivera
--To be honest, I partly cast Naya to bring some diversity to this cast. However, I also cast her because I feel her character on Glee is similar to Chloe in this book (well, without song). She's has that diva attitude that Chloe does.
Patty
:
Patty is Don's secretary. Later in the book, it becomes known that she is his long-time mistress. Patty acts as though she is innocent around the family, but she just feels uneasy around her "lover" Don's new wife. Patty is married but decided to break it off with her husband to be with Don. She later sent a picture of herself in lingerie to Barbara, which was taken in Don and Barbara's bedroom.
Cast:
Katie Holmes
--
Um, Katie Holmes plays a hussy all the time! Check out
Abandon
and
The Gift
. You'll understand.
Last but not least, the reason I loved this book:
Dexter Jones - Dexter is the lead singer of a band called Truth Squad (also known by their wedding persona, the G-Flats). Gangly and sociable, he bumps (literally) into Remy at her stepfather-to-be's car dealership, claiming to have sensed a special bond with her. It is later revealed he dropped out of college for music, "breaking his mother's heart", as Remy's stepfather Don says at the Fourth of July barbecue. Don's sister is Dexter's aunt, but Don is not Dexter's uncle. Dexter's dog is named Monkey because he wanted a monkey when he was ten, but got a dog instead. He is carefree, kindhearted, and funny.
Cast: John Patrick Amedori -- Watch TiMER. I repeat, WATCH TiMER. You'll see why John Patrick would be a brilliant Dexter! His performance in TiMER is pretty phenomenal. He has the boyish charm, the slight lazy slacker quality and vulnerability that Dexter needs.
*sigh*
So that's my cast. Do you agree or disagree? Did I miss anyone? Let me know!