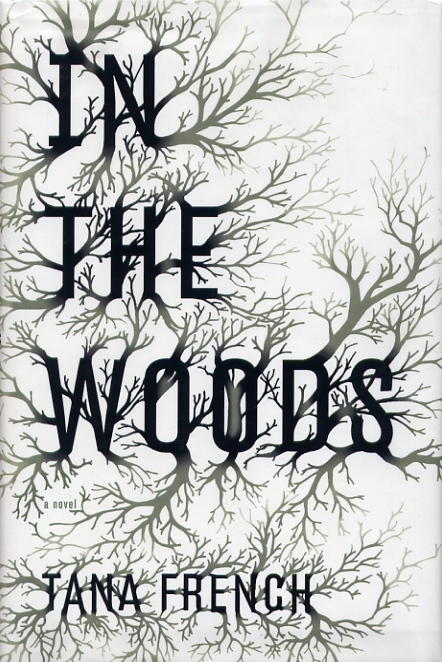 In the Woods by Tana French
As a rule, I stay away from detective novels. Trying to break a case before the main character does isn't something that gets me going. I also hate that creepy crawly feeling I get when reading a gruesome thriller late at night. It makes me jumpy and uncomfortable for a few days and I start looking over my shoulder too many times when walking home alone late at night.
Well, Tana French is the go-to author for anyone, like me, who has been harboring reservations about the mystery/thriller genre, but might be interested in experiencing that creepy crawly feeling, as well as some other, deeper emotions. What French has done in "In the Woods" is just amazing. The short end of the story is that I am now in love with both her and her characters.
Set in Dublin, "In the Woods" follows newbie detectives Rob Ryan and Cassie Maddox, both members of the Dublin Murder Squad, who just got the lead on a new, high profile murder case. A 12 year old girl named Katy Devlin is found dead at a wooded archeological site just outside the capital. The clues surrounding the crime are limited, while the questions and suspects are numerous and every new hunch to the solve hard to prove. Making things even more complicated is the fact that detective Ryan has a case-shattering secret: 20 years ago he was a witness to the disappearance of two of his childhood friends who went missing in the same woods where Katy's body was found. This old crime was never solved because young Rob Ryan suffered permanent memory loss and was never able to recall what happened to him or his friends when they went to play in the woods that day.
Although the connection between the two crimes is unclear, Detective Ryan is unable to shake the guilt he feels over what happened. His unresolved emotions about his past begin to affect his ability to work the Devlin case and slowly infiltrate and deteriorate the strong bond he has with his partner Cassie (think along the lines of Law & Order: SVU's Benson and Stabler with a little bit more flirtation and booze). Singularly, Rob and Cassie are two broken and messed up individuals, but when they are together everything just makes sense. Although solving the crime is of peak interest at the start of the book, by the end of it, the reader's attention is almost exclusively focused on the shifts within Ryan and Maddox and their connection. Their very complex individual and shared pasts combined with the strain imparted by the Devlin murder case wreak havoc on everyone and everyone, possibly beyond repair.
Never have I ever been so involved as a reader in the relationship between two fictional people as I was with Cassie and Rob. I wasn't expecting to find this level of earnest emotions and cruelty and pain in a detective crime novel (sincerest apologies to that genre). Tina French had the ability to transport me inside the story and at times I felt like I wasn't only reading the pages, but actually living each moment described. Just thinking about those last few chapters of the book makes me angry and sad, even now...and damn, do I have some burning questions for you Tana French!
LitSnit Grade: A
Quote:

"
The girls I dream of are the gentle ones, wistful by high windows or singing sweet old songs at a piano, long hair drifting, tender as apple blossom. But a girl who goes into battle beside you and keeps your back is a different thing, a thing to make you shiver. Think of the first time you slept with someone, or the first time you fell in love: that blinding explosion that left you cracking to the fingertips with electricity, initiated and transformed. I tell you that was nothing, nothing at all, beside the power of putting your lives, simply and daily, into each other's hands."
Pros:
Great writing-some say it was wordy, but I loved every minute of it.

Very, very, very complex, but intelligent characters, the kind of characters that you love and want to be (or be with)

Great setting: Dublin and nearby countyside is a great, atmospheric backdrop to a suspense novel
I hate to say it, but the actual crime and its eventual resolution were eclipsed by the characters and their individual storylines. This might not be the book for detective fiction purists.

French tidies up the murder case pretty well, but she leaves a lot of unanswered questions about Ryan and Maddox. This book is only for readers who can deal with authors that like to leave some issues unresolved.
More Like It: The Likeness (Dublin Murder Squad, #2) by Tana French